Vertical CNC Machining
There are two types of CNC machining, and the difference is the orientation of the spindle. There is either horizontal or vertical milling. Horizontal is often used for longer, more complex components. We utilize vertical CNC machines in order to produce the wider, shorter components; these include damper spiders, diffuser inlets, compressor impellers, and more. Our vertical CNC machining is run by our highly experienced team to ensure precision and close tolerances.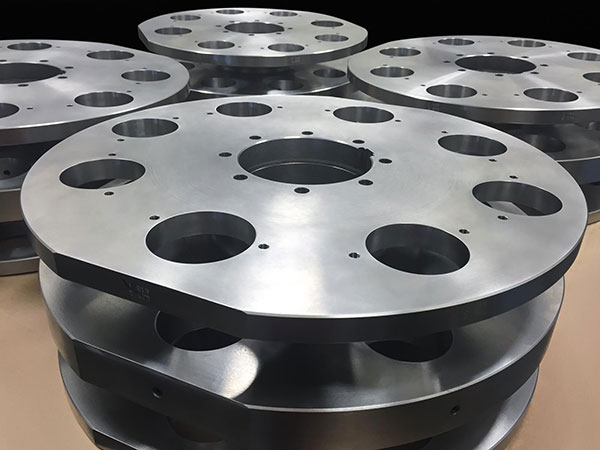 We utilize various vertical machining centers and turning lathes or boring mills to ensure that we have the right equipment to manufacture the parts that are needed in the most efficient way. In a vertical milling machine, the cutting tool is held and rotated by the vertically oriented spindle. The spindle extends and retracts as needed to remove the material and create the exact holes or other features of the part.
As we often manufacture in small quantities, our machining team is well versed in material and tool change outs. The computer then takes over and controls the manufacturing to the precise specifications of each client's print with close tolerances. In order to ensure a quality, long lasting part, we source the best material for our client's and perform dimensional inspections throughout the manufacturing process. Generally we work with various steels, but other commonly used materials include aluminum and bronzes. However, we also have experience working with other exotic metals that may be requested based on their extreme strength and high wear resistance. Whatever material the client requests, we can source it and machine it to meet their expectations and specifications.
After machining, each part goes through our quality assurance process to ensure high quality workmanship goes into each order. Our vertical CNC machines allow us to work with parts from 1" to 99" in diameter. Contact us today to learn more about our experience and how we can help you receive precision quality manufacturing.