Bearings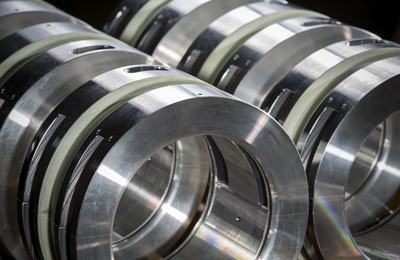 Milwaukee Bearing & Machining Inc. has over 50 years of experience in babbitt lined bearing manufacturing. We have state-of-the-art capabilities for centrifugally casting babbitt lined bearings up to 48" diameter. Our manufacturing team will work with you to ensure high-quality, custom designed bearings are delivered to your exact specifications.
We specialize in babbitt lined bearings, including:
Compressor Bearings
Fracking Pump Bearings
Centrifugal Pump Bearings
Journal Bearings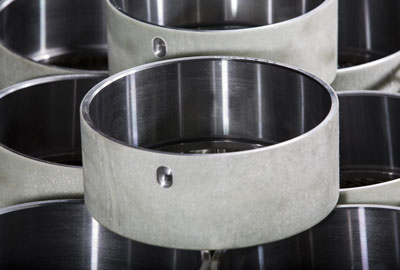 All bearing shell materials (steel, bronze, iron and aluminum) can be processed in our modern manufacturing facility. All babbitt lined bearings are ultrasound tested to assure 100% bond of the babbitt to the backing material. We are ISO 9001:2015 certified to ensure high quality workmanship. Milwaukee Bearing & Machining Inc. can also meet your bronze bushing needs!
Our facility is clean and fully equipped with CNC methods to efficiently manufacture and ship the babbitt lined bearings you need to complete your project. Whether you need a single babbitt bearing replaced or require a bulk delivery, our proven processes give you the best bearings at affordable prices.
---
Bearings History and Resources
History of Ball Bearings - Bearings and bearings technology have greatly evolved and improved since their first known uses between 5000 BC and 3000 BC and then da Vinci's designs in the late 1400's.
History of Babbitt Bearings - The original babbitt metal was invented in 1839 to be used in steam engines. Today babbitt metal is most commonly found used as a thin surface layer to provide resistance to galling.
Benefits of Fluid Film Bearings - There are several benefits to using fluid film bearings instead of ball bearings. The main benefit is the two surfaces never touch which reduces friction.